MUTTABURRA
Aramac Attractions :: Aramac Tramway :: Captain Starlight
Aramac Grey Rock :: Aramac Lakes :: Aramac Range :: Muttaburra
Muttaburrasaurus Langdoni :: Muttaburra Museum :: Union Hole & Union Camp
Muttaburra was developed as a town in the late 1870's. The name of the town is derived from an Aboriginal word meaning "meeting of the waters".

The area, formerly part of a vast inland sea, is rich with fossilised history. The discovery of the fossilised bones of a previously unknown dinosaur 12m long, 2.5m high from the hip and weighing approx 15 tonnes, resulted in the creature being named Muttaburrasaurus.

POINTS OF INTEREST: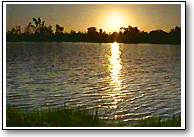 Full size replica of the Muttaburrasaurus Langdoni, Edkins Street.
Dr. Arratta Memorial Medical Museum, Old Hospital building - viewings by appointment.
The Pumphole - a fishing spot 4km up the Thomson River - Picnic area.
The Broadwater - a long stretch of water suitable for fishing and water skiing, 6km south of town on the Thomson river.
Union Hole - a large water hole and site of the Union Main Camp during the Historic shearer's strike.