HUGHENDEN
Hughenden Attractions :: Hughenden History
Hughenden Dinosaur Centre :: Porcupine Gorge
Prairie :: Torrens Creek
Hughenden is the centre of the Shire of Flinders. Other townships within the Shire are Prairie, Stamford and Torrens Creek. Flinders Shire covers an area of 41,632 square kilometres which extends 106 kilometres to the East, 88 kilometres to the West, 166 kilometres to the North and 158 kilometres to the South of Hughenden. Population of the Shire is approximately 2250, of which about 1400-1500 reside in Hughenden.
Flinders Shire is predominantly a grazing area. The basalt red and black volcanic soil country north of the Flinders River consists of cattle properties, with the black soil Downs country south of Hughenden providing suitable grazing for sheep. Approximately 204, 000 head of cattle and 405, 000 head of sheep can be found within the Shire.
Municipal Sale Yards have been established to cope with the ever increasing number of stock being sold in the District. The Shire also has two Department of Primary Industries clearing dips situated at Hughenden and Prairie.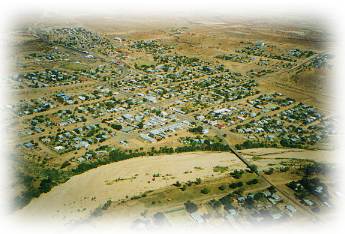 Situated on the banks of Queensland's longest river, the Flinders, Hughenden is 386 kilometres south-west of Townsville and 518 kilometres East of Mt Isa on the fully sealed Flinders Highway. The Flinders River rises near Reedy Springs, approximately 161 kilometres North-East of Hughenden and empties into the Gulf of Carpentaria. It is over 840 kilometres in length and covers thousands of square kilometres of country whilst in flood.
Flinders Shire has an average rainfall between 350mm (14") and 450mm ( 18") annually. The heaviest falls (known as the 'wet season') occur usually between December and March.
The Shire is located above the Great Artesian Basin and relies on Sub-artesian bores for its water supply. Five bores serve as the water supply for Hughenden.