TORRENS CREEK
Hughenden Attractions :: Hughenden History
Hughenden Dinosaur Centre :: Porcupine Gorge
Prairie :: Torrens Creek
Torrens Creek has its place in history associated with the Coral Sea Battle. In 1942 this little town was nearly blown apart when a huge allied ammunition dump exploded.
Torrens Creek was in a vital position for a supply dump when the threat of Japanese invasion was apparent. Australian and American troops were concentrated along the Great Northern Railway from Townsville to Cloncurry. Torrens Creek became a stockpile of tens of thousands' of pounds of high explosives; bombs, shells and ammunition of all calibres.
The bomb dump comprised several piles, each of about twenty tonnes, together with hundreds of boxes of fuses. This dump was placed in the open on the Town Common, but bushfires presented a real hazard.
American troops were in charge and carried out regular controlled burns to create firebreaks. One summer day in 1942 a fire that was not properly extinguished caused a terrific explosion which hurled men from their trucks. There were twelve major explosions in succession, sufficient to leave craters twenty feet deep. Soil and rock erupted like a volcano. Red hot shrapnel exploded over a wide area and started more fires.
In the town buildings shook, windows broke and people were convinced that an air raid had occurred. As the fire spread, a thousand soldiers and civilians attacked the blazing grass with bags and boughs in an attempt to prevent it spreading to other dumps. Their efforts were in vain.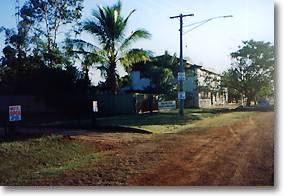 Torrens Creek rises in the Great Dividing Range and runs southward to the Thompson River system to eventually reach Lake Eyre. It was discovered in 1862 by William Landsborough while searching for Burke and Wills. He named the creek after Sir Robert Torrens, Premier of South Australia.
The Great Northern Railway reached Torrens Creek in 1885 and from then on it became the supply centre for a large district. Mailmen rode out north and south to various stations delivering mails along routes which are still in use today. The district's most famous mailman, Jack Bunt, who served from 1931 to 1954 is honoured with a cairn and plaque erected by Torrens Creek Residents.