ARAMAC
Aramac Attractions :: Aramac Tramway :: Captain Starlight
Aramac Grey Rock :: Aramac Lakes :: Aramac Range :: Muttaburra
Muttaburrasaurus Langdoni :: Muttaburra Museum :: Union Hole & Union Camp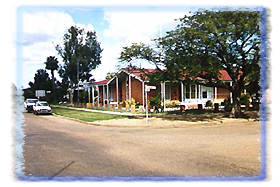 Aramac is a town that is the main centre of a shire of the same name. It is 500 km west of Rockhampton, and the shire is bordered on the south by Barcaldine and the west by Longreach.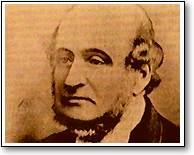 Aramac was originally called Marathon. In the 1850s Robert Ramsay Mackenzie (later knighted and Premier of Queensland), explored the area for his pastoral interests. He carved "R. R. Mac" on a tree, which was found by the explorer William Landsborough in 1859. Landsborough adapted the initial to Aramac, giving the name to the creek on which the town is now situated.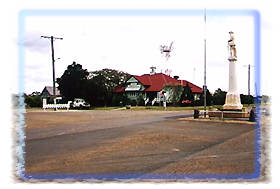 The town was developed in the 1860's and was formally gazetted on 26 June 1869 - but not surveyed until 1875. Subdivided lots were offered for sale in 1879. That year coincided with the creation of a Divisional Board for Aramac, the genesis of local government. The Board's area was 50,750 sq. km., with jurisdiction over an estimated 841 persons and 123 ratepayers.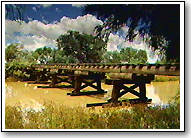 Aramac is the oldest centre of local government in the Central West. The Aramac Tramway operated between 1913 and 1975 and linked the town with the central railway system at Barcaldine. It was closed down on the completion of an all-weather road between the two towns.