ARAMAC ATTRACTIONS
Aramac Attractions :: Aramac Tramway :: Captain Starlight
Aramac Grey Rock :: Aramac Lakes :: Aramac Range :: Muttaburra
Muttaburrasaurus Langdoni :: Muttaburra Museum :: Union Hole & Union Camp

The Aramac district has many natural and historic places that are well worth taking the time to visit. You will be able to explore pre-historic dinosaur fossills, Aboriginal dreamtime sites, cave paintings and many natural wonders all within easy travel from the township.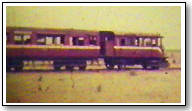 Aunt Emma - Relics of the tramway including the RM28 railmotor (Aunt Emma) are preserved in the Goods Shed (Museum).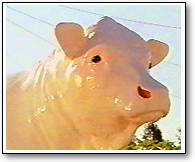 Captain Starlight's Folly - A replica in the main street of Aramac of the white bull which caused Harry Redford to be charged.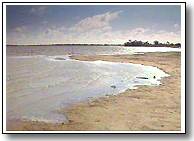 The Lakes
Lake Galilee - a salt water lake located 93 kms north-east of Aramac and is about 40 kms long. It is a wildlife sanctuary where birds nest on the islands. Lake Dunn - Located 68 kms north-east of Aramac; a fresh water lake popular for swimming, skiing, fishing and bird watching.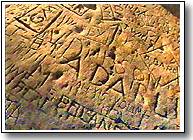 Gray Rock - is a large sandstone rock in the Aramac Range with engraved names from the turn of the century to the present; visit site of old hotel and horse change for Cobb & Co coaches; Aboriginal hand prints.
Mt Lonely - where Aboriginals collected Ochre to use for art work and body paint.

Horsetailers Gorge - Explore the interesting rock formations and caves and identify the trees.

Gracevale and Mailman's Gorge - Ancient rock art; by guided tour only.