ARAMAC RANGE
Aramac Attractions :: Aramac Tramway :: Captain Starlight
Aramac Grey Rock :: Aramac Lakes :: Aramac Range :: Muttaburra
Muttaburrasaurus Langdoni :: Muttaburra Museum :: Union Hole & Union Camp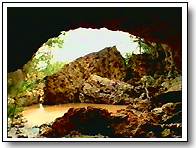 No journey to Aramac or the Central West will be complete without a visit to he unique Gracevale Caves, on the edge of the Aramac Range.

Join a 70km tour via picturesque Mailman's Gorge and Gorden's Cave to the ancient aboriginal rock art of "Gracevale".
Historic Mailman's Gorge is so named from its use in the later part of the 19th century as a horse paddock. Over 200 hectares (500 acres) is enclosed by steep sandstone cliffs with an entrance narrow enough to be closed by sliprails. It was here that the mailman kept a change of horses and camped overnight. Later, Cobb & Co coaches also used the gorge to spell horses.

Gordon's Cave includes a labyrinth of weathered caves and blowholes. Here it is alleged that in 1869 Government Troopers massacred forty aborigines.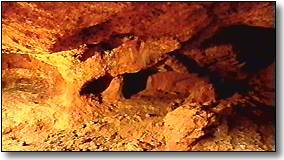 At Gracevale caves, rare examples of traditional aboriginal art, covering over 100 metres along the escarpment and estimated to be at least 10,000 years old, are only now being made public.