GETTING HERE
Self Drive
You can reach Outback, via:
north-west from Brisbane on the Warrego Highway
west from Rockhampton on the Capricorn Highway
west from Townsville on the Overlander's Way (Flinders Highway & Barkly Highway)
north via Bourke along the Kidman Way from north-west New South Wales to connect with the Matilda Highway.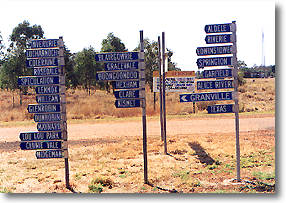 Coach
Greyhound Australia services all towns on the Warrego and Landsborough Highways between Brisbane, Charleville, Longreach and Mount Isa; and on the Overlander's Way between Townsville and Mount Isa with connections to the Northern Territory.
Rail
Outback rail journey starts with one of the three authentic Outback trains.
Spirit of the Outback - Brisbane to Longreach
The Westlander - Brisbane to Charleville
The Inlander - Townsville to Mt. Isa
Air
Air services to Outback Queensland include Brisbane to Charleville, Blackall, Barcaldine, Longreach and Mount Isa as well as the services to the following Outback destinations; Townsville to Mount Isa direct or via Hughenden, Richmond, Julia Creek and Cloncurry; Townsville to Longreach via Winton; Brisbane to Mount Isa via Charleville, Quilpie, Windorah, Birdsville, Bedourie and Boulia; Brisbane to Thargomindah via Cunnamulla, St George and Oakey; Brisbane to Moranbah.
Next Page; Aramac >