BARCALDINE
Barcaldine Attractions :: Barcaldine Regional History
Barcaldine Industry :: Barcaldine General Information
Workers Heritage Center
Barcaldine township is situated on Lagoon Creek, which flows into the Alice River some 5 kms south of the town. The Alice River bisects the shire, flowing in a south western direction to meet up with the Barcoo River. These watercourses all form part of the Lake Eyre Catchment.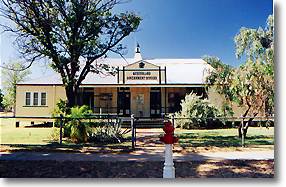 The centre peg of Queensland is located on a property south west of the town. The township is located on rich red loamy soil and relies solely on water from the Great Artesian Basin. This combination of resources has allowed Barcaldine to be known as "The Garden City of the West".

Historically, it is significant as the centre of the Shearers' Strike of 1891. About 1000 men, striking against the use of non-union labour in sheds, formed camps on the outskirts of town. The remains of these camps can still be seen.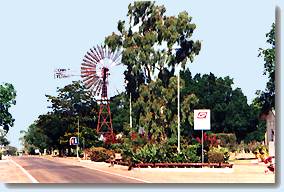 The dispute resulted in the formation of the Labour Party. At the same time, the Graziers' Association of Central and Northern Queensland was formed - this later became the modern day National Party.

The Australian Worker's Heritage Centre, a national project, was established to commemorate all working Australians, past and present, and their contribution towards the development of the nation. It was officially opened in May, 1991 and Stage 2 was completed in September, 1994.