ARAMAC LAKES
Aramac Attractions :: Aramac Tramway :: Captain Starlight
Aramac Grey Rock :: Aramac Lakes :: Aramac Range :: Muttaburra
Muttaburrasaurus Langdoni :: Muttaburra Museum :: Union Hole & Union Camp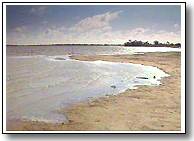 Lake Galilee is a salt water lake located 93 kms north-east of Aramac and is about 40 kms long. It is a wildlife sanctuary where birds nest on the islands.
Lake Dunn usually just called The Lake is a freshwater lake 68 kms north east of Aramac. Lake Dunn, aboriginal name Pajingo Bola, meaning "Big Fella Waterhole" is 3.21 kms long and 1.6 kms wide. It was named after James Dunn, at one time head stockman at Mt Cornish Station, who discovered it when he tracked a mob of cattle there.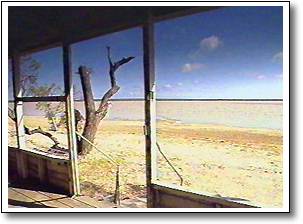 Lake Dunn is a birdwatchers paradise and is home to over eighty different species of birds. It is also an excellent fishing spot for Golden Perch, Brim and Yellowbelly.
Lake Dunn is perfect for swimming, water-skiing, windsurfing and sailing and is an ideal camping and picnic spot. Other facilities include waterfront holiday huts, tennis courts and airstrip, golf course and camping ground with power, toilets and hot and cold showers.
Enjoy a pleasant drive over the Aramac Range through the desert country with it's red sand, spinifex grass and wild heather, which flowers in the spring, to the peace and tranquillity of Lake Dunn. Watch the sun go down over the lake and enjoy the serenity as evening falls.