PRAIRIE
Hughenden Attractions :: Hughenden History
Hughenden Dinosaur Centre :: Porcupine Gorge
Prairie :: Torrens Creek
The name Prairie would seem to derive from the "prairie - like" setting. The explorer William Landsborough passed through this area in 1862. He camped by Jardine Creek (Named after explorer Alexander Jardine), viewed Jardine Valley and named Tower Hill.

The earliest occupants were the Dalleburra tribe and then came the settlers. Many sheep and cattle properties were developed around the area and helped the town to progress. In the 1870's Prairie was a main horse change centre for Cobb & Co Coaches.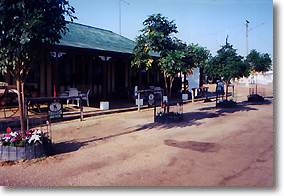 Prairie is part of the Great Northern Railway Line which links Townsville and Mount Isa. Construction of the line began in 1878 under contract by Mackenzie and Sutherland. Several Hundred men, many of whom were Irish immigrants, worked on this line.

Some settled in this area and around Charters Towers and their descendants are still with us. Despite many delays, the line reached Prairie on September 6 1887 and Hughenden on October 19 the same year. The opening of the railway line was provided a breakthrough in the transportation of wool for the graziers.