PORCUPINE GORGE
Hughenden Attractions :: Hughenden History
Hughenden Dinosaur Centre :: Porcupine Gorge
Prairie :: Torrens Creek
Porcupine Gorge National Park is Hughenden's main tourist attraction.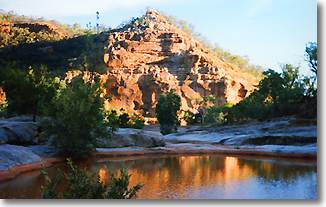 Bushwalking, birdwatching, swimming and splendid photography opportunities are on offer. Often referred to as Australia's "little Grand Canyon", Porcupine Gorge is located approximately 63 kms north of Hughenden.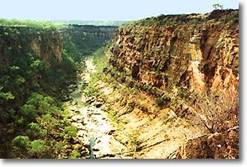 To access the gorge follow the signs through Gray Street over the Flinders River bridge along the Hann Highway. This road is unsealed and visitors should check at the Information Centre for an update on current road conditions. Care should be taken at all times as this is also a road train route.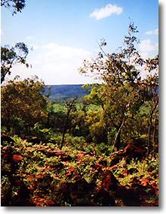 A spectacular canyon of sedimentary rock, the gorge provides a striking contrast to the surrounding dry flat plains. Cliffs of 120 metres in height, fluted channels, boulders, potholes and shallow caves have been sculptured and coloured by wind and water.
Two lookouts provide magnificent views and camping is allowed at the Pyramid where a pit toilet and shelter shed is available for public use.