HUGHENDEN ATTRACTIONS
Hughenden Attractions :: Hughenden History
Hughenden Dinosaur Centre :: Porcupine Gorge
Prairie :: Torrens Creek
Hughenden Dinosaur Centre - displays "Hughie" a life size skeleton replica of the Muttaburrasaurus Langdoni. The dinosaur display also hosts a selection of fossils and historical memorabilia.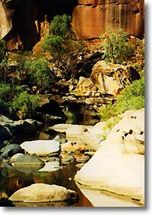 There are several points of interest which demonstrate the hardships of our pioneers and local legends on the way to Porcupine Gorge. These are all clearly marked with signposts.
One example is the grave of teamster Bill Crossley who died in 1888. While trying to free a wagon bogged in nearby White Cliffs Creek, Bill was bitten by a Scorpion. By the time that Bill's offsider could raise the money to ensure the attendance of the local doctor, Bill had died.
Whistling bore is another unique piece of history. Depending on atmospheric pressure, a distinct whistle can be heard through the hole in the cap sealing the bore. It was originally put down as a stock route watering facility but abandoned when at 500 feet deep water still didn't rise. On most days a humming sound can be heard. The whistle is a mystery, one reason offered is that a cave -in somewhere in the shaft of the bore has created a wind tunnel.
The Historic Coolabah tree (also known as the Walker/Landsborough tree) is situated off Gray Street, past the causeway on the right as you head to the Hughenden Showgrounds. Both the Walker and Landsborough search parties blazed the tree as they passed through this area in search for Burke and Wills. This spot is marked by two commemorative plaques.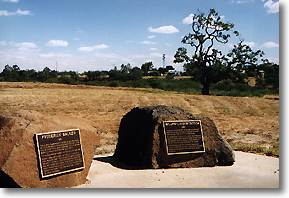 The Rotunda and Drinking Fountain was erected in 1932 by the Hughenden District Soldiers Memorial Fund in memory of fallen soldiers in the Boer and Great War. It is located on Gray Street.