HUGHENDEN HISTORY
Hughenden Attractions :: Hughenden History
Hughenden Dinosaur Centre :: Porcupine Gorge
Prairie :: Torrens Creek
The Flinders River was discovered by Lt. John Stokes of the "Beagle" in July 30th 1841. It was named to honour the name of Matthew Flinders who had circumnavigated Australia in the Investigator. The Flinders is Queensland's longest river flowing for 840 kilometres before reaching the Gulf of Carpentaria. Despite this fact, Hughenden relies on Sub-Artesian Bores for it's water supply.
Other principal towns within the Shire of Flinders are Prairie and Torrens Creek which are both located east of Hughenden also on the Flinders Highway. Both these towns have interesting histories. Prairie, during the 1870's was a main horse change centre for Cobb & Co Coaches. Prairie was also a part of the Great Northern Railway Line which links Townsville and Mt Isa. A visit to the Prairie Hotel is worthwhile to view an assortment of historical items displayed on the walls.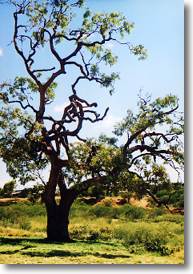 Frederick Walker's search party for the ill fated Burke and Wills Expedition passed through the Hughenden district in 1861.
William Landsborough and his exploring party also in search of Burke and Wills camped on the present day site of Hughenden on St Patrick's Day 1862.
Hughenden was pioneered in 1863 by Earnest Henry. It was he who gathered together a mob of cattle and claimed the first selection. The race was on after glowing reports were heard from Walker and Landsborough. Henry, assisted by two white Stockmen and two black boys passed Sheaffe, Walpole and Hayes near the present day Torrens Creek and were the first to descend into Jardine Valley. The land that he occupied he named Hughenden Station. Hughenden was the name of the Tudor manor house of his grandfather in Buckinghamshire England.