HUGHENDEN DINOSAUR CENTRE
Hughenden Attractions :: Hughenden History
Hughenden Dinosaur Centre :: Porcupine Gorge
Prairie :: Torrens Creek
A seven metre long by three and a half metre high life size replica of the bird footed dinosaur Muttaburrasaurus Langdoni is on display at the Hughenden Visitor Information Centre in Gray Street.
"Hughie" in his day would have weighed about twenty five tonnes. A selection of fossils and historic artifacts is also displayed at "Hughies Den".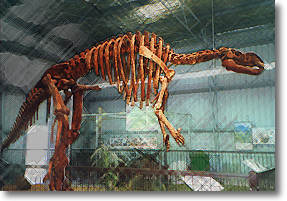 The skeleton was found in 1963 by Doug Langdon while mustering on a property called Roseberry Downs. While some of the bones had been damaged, most of the skeleton remained in good condition and formed the most complete dinosaur fossil found in Australia at that time.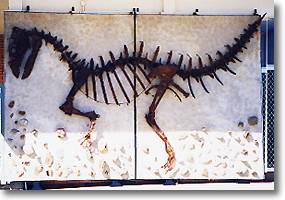 The centre also has video information on points of interest in the Shire of Flinders plus a large range of regional maps and souvenirs.