BARCALDINE INDUSTRY
Barcaldine Attractions :: Barcaldine Regional History
Barcaldine Industry :: Barcaldine General Information
Workers Heritage Center
Barcaldine is strategically located on the junction of the Landsborough (Matilda) Highway and the Capricorn Highway. It is 600 kms to Rockhampton, 750kms to Mt Isa, 650kms to Townsville and 1200kms to Brisbane. The shire takes in an area of 8430 square kms. Situated 15km south of the Tropic of Capricorn, Barcaldine enjoys a temperate climate.

The Barcaldine Shire population represents approximately 13.5% of the Central West Statistical Division and this Statistical Division takes in 11 shires.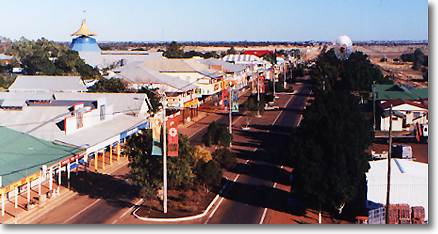 Primary production is the major industry in the Barcaldine area, being wool, sheep and cattle.

The Barcaldine Shire Council is the major employer with in excess of 90 people employed. This includes the services administered by the Council such as Family Day Care, 60 & Better, Youth Centre, Rural Family Support and Home Assist / Secure.

Barcaldine has Queensland's only privately owned Gas Power Station with the gas being piped in from Gilmore south of Blackall. Power produced here is supplied into the system when usage is in demand.

Tourism is slowly developing with the promotion of the area in particular "The Australia Workers Heritage Centre".