BARCALDINE ATTRACTIONS
Barcaldine Attractions :: Barcaldine Regional History
Barcaldine Industry :: Barcaldine General Information
Workers Heritage Center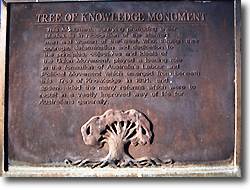 The Tree of Knowledge
It has a special place in history and this was brought about by the great Shearers' Strike of 1891, this being the central place for meetings that were held during the strike. A monument to the shearers now stands near the Tree of Knowledge. The tree is a ghost gum and is said to be approximately 170 years old.
Australian Worker's Heritage Centre
The Heritage Centre is an attractive tourist spot set around a relaxing billabong which has a flowing bore supplying the water. Heritage buildings display both past and present and pay tribute to the working men and women of Australia. Displays of history, art, movie, railway, school, power station, hospital, ambulance, fore service equipment, indigenous garden, women at war display and much more.
Barcaldine and District Folk Museum
This building itself is history being an old National Bank, which was built in 1906 and has been used as a museum since 1973. It is situated on the corner of Gidyea and Beech Streets and is open daily from 7am-5pm. (closed Good Friday and Christmas Day) Family days are held on the last Sunday of the month (March to October) and both young and old can ride on the mini stream trains, Smoko and BBQ lunch is also available, so why not have a day out with the kids.
Mad Micks Funny Farm
The farm consists of relocated and restored historical buildings. The slab hut was built in 1886 and relocated in 1985-86. The cottage was the outstation home on Beta Farm Station near Alpha and has only been unused boundary riders and fencers who worked on the property in the early days.

Other historical buildings have also been added and these have just as much history including a one room golf clubhouse built in 1929, hight horse shed, slab Cobb & Co office, old wool skin buyers residence, a collection of over 1000 dolls and much more.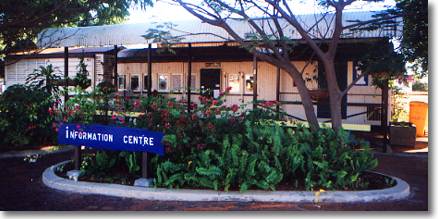 Lloyd Jones Weir
The Lloyd Jones Weir was built in 1952-53 and first filled in 1954. The scenic area offers picnic facilities with BBQ, water, shady eucalyptus, covered rest area as well as being a great fishing and swimming spot. So go and enjoy the tranquillity of the bush, catch a yellow belly fish or go bird watching.
Radio Theatre
A must for tourists is a visit to our historic movie theatre with a night out at the movies. Yes the Radio Theatre reopened again just before Christmas in 1995 and is now showing the latest movies every weekend. Matinees are held at various times throughout the year. This theatre first opened in 1926 with silent movies and talking movies were introduced in 1931. Why not have a night out and experience the atmosphere and the old style canvas seats.
Historical Working Windmill
Be photographed near this great old 27ft diameter windmill which was originally erected on the "First Free Flowing Bore" in Queensland at Back Creek Barcaldine. This windmill was manufactured by Sidney Williams in 1917 and is a C Pattern model. It now pumps water into the nearby pool. A real tourist must.