JERICHO ATTRACTIONS
Jericho Attractions :: Alpha Township Murals
Local artists are responsible for the many murals that are displayed on various buildings in Alpha.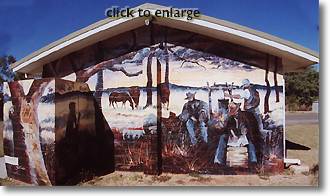 The "Jane Neville-Rolfe Gallery" is situated in Alpha and has several different exhibitions each year.
60km east of Alpha is the Drummond Range Lookout which is next to the Capricorn Highway.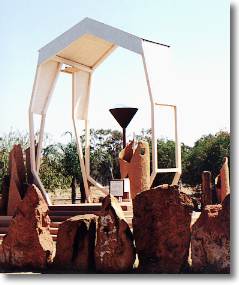 The "Crystal Trumpeters" in the main street of Jericho.
About 70km south of Jericho is "Black's Palace", which contains one of the most impressive galleries of Aboriginal art in Queensland.
Another 40km west of Jericho is the site of the first artesian bore sunk in Queensland at "Back Creek".
A small native flower trial plot has been established at the eastern entrance to Alpha from which Council intends to export flowers overseas. All along the Capricorn Highway you can admire the beautiful native flowers which bloom throughout the winter and spring months.
For your convenience, there are many amenities within the shire, including swimming pools, an 18 hole 'sand green' golf course, cafes, grocery shops, hardware stores, several mechanical outlets. There is a well equipped small hospital in Alpha as well as a resident doctor.