BLACKALL ATTRACTIONS
Blackall Attractions :: The Old Woolscour

Blackall Community Museum & Historic Park
Blackall is in the heart of the State's merino sheep breading area. Shearing occurs all year. The Big Ram signifies the importance of the sheep and wool industry to the area. The bullock dray shows the early means of transport.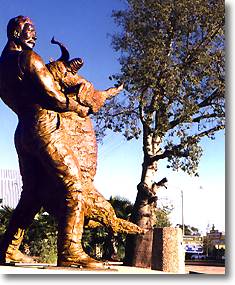 Jack Howe - Legendary Shearer
The mighty shearer Jackie Howe lived and died in Blackall. In 1892 he shore a resord of 321 sheep in 7 hours 40 minutes. He is buried in the local cemetery. A memorial statue is located in Short Street and memorabilia can be seen at the Universal Gallery.
Labour Federation Memorial
This is located on the median strip of Shamrock Street and commemorates the first meeting of the shearers' union in December 1886. This group later became the Australian Labour Party.
Blackall Cultural Center
Center faces Memorial Park on Hawthorne Street, forming a backdrop to the Spanish mahogany and fig trees. The building includes an auditorium, supper room, kitchen and bar. An art gallery displays local and touring exhibitions. The form of the building echoes the long rolling forms of the western topography and reflects the historical building materials of western Queensland.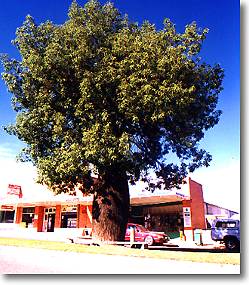 Blackall Parks
Both the local council and residents take pride in their parks and gardens. The main street is lined with indigenous bottle trees, botanically known as Brachychiton Rupestris. This tree is useful for drought feeding, by allowing cattle to eat the soft tissue in the trunk. This tissue is a good source of energy but is deficient in protein. The tree survives in clay to clay loam soils, and grows to a height of 20m.

The native Boree tree, botanically known as Acacia Tephrina, grows to approximately 15m high. Its greyish leaves give the rounded canopy a silver appearance. It grows in heavy clay loam and tolerates long, dry seasons.

The native gidgee tree, Acacia Cambagei, is sometimes called stinking wattle because it produces a strong odour in humid weather. The leaves are leathery and pale green in colour. The trunks are successfully used for fenceposts that last in the ground for hundreds of years. Other indigenous trees include dead finish and leopardwood.